CalPlug Workshop #16: April 22nd, 2021–Presented Online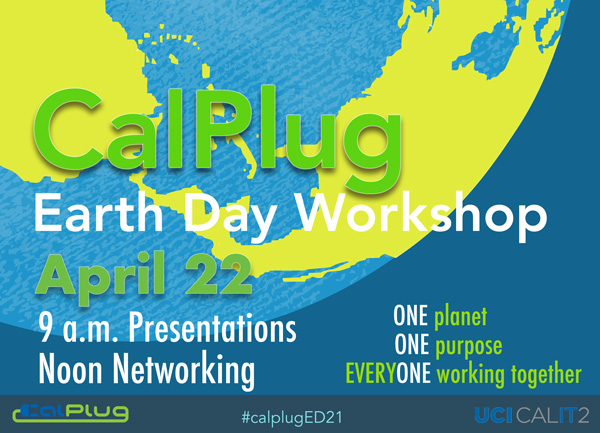 Even though many sustainability efforts have been made in the past 50 years such as reducing plastics, increasing recycling efforts, passing environmental regulations, protecting endangered species, etc., there is still much to do for our planet.
CALIT2's CalPlug continues to work with all stakeholders to find solutions to mitigate climate change. Please join us on April 22, 2021 for a virtual lively discussion about innovative energy solutions to contribute to the restoration of the environmental balance.
AGENDA:
9:00 A.M.: CalPlug Welcome

G.P. Li,  Director of CalPlug

9:10 A.M.: Introducing CalPlug 2.0

Doug Johnson, Consumer Technology Association
Kim Trenbath, National Research Energy Laboratory – Co-chairs CalPlug advisory board

9:25 A.M.: Introducing the La Kreutz Innovation Campus

David Jacot, Los Angeles Department of Water and Power

9:45 A.M.: California's Emerging Technologies Program

Edwin Hornquist, Southern California Edison

10:05 A.M. Break
10:10 A.M.: United Nations Playing for the Planet Initiative

Yennie Solheim, Niantic Labs

10:30 A.M.: Accelerating Climate Action in California

Ann Hancock, Climate Center

10:50 A.M.: Powering Healthcare: Setting the Scene

Luc Severi, Sustainable Energy for All

11:10 A.M.: Call to Action: What solutions can we find together?

Joy Pixley, CalPlug, moderator for presenter panel dialogue and Q&A

11:40 A.M.: Wrap-up

Closing remarks by G.P. Li workshop wrap-up

Noon: Moderated breakout rooms networking sessions