CalPlug Workshop Series #11 meets at CALIT2
By Sharon Henry
Irvine, April 25, 2017 —The California Plug Load Research Center (Calplug) hosted its 11th workshop on April 11 at CALIT2.
The morning sessions, titled "CAMPUS COOL – CalPlug and UCI" featured an update report on CalPlug projects as well as next steps planned for the center. Presenters discussed how CalPlug plans to take energy efficiency and sustainability to the next level, and explored CalPlug's roadmap as well as what UCI is doing to remain one of the coolest campuses in the nation. Speakers included (click name to download presentation):
The workshop's afternoon sessions, focused on the theme "Make America Great & Green Again."
Presenters reported on navigating through a new administration and its policies, and discussed how California, and the nation, will attempt to overcome setbacks and anticipate obstacles from the Trump administration and its policies.
A final session was devoted to the theme of California's leadership in energy efficiency, and how industry is meeting the goals and targets of energy efficiency and sustainability.
At a reception following the workshop, more than a dozen undergraduate CalPlug researcher demonstrated their energy-saving projects to workshop attendees.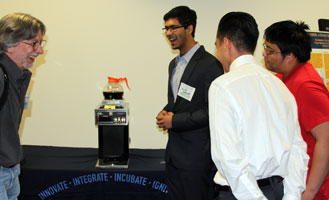 Undergraduate researcher, Sid Kasat (right) discusses his team's project with Ken Lowe, Co-Founder, Vice President, Vizio (left). The project, Coffee Buddy is a system based on CalPlug's IntelligE engine to provide substantial energy savings for commercial coffee makers in shared use environments. The device is a retrofit unit that connects to a commercial drip coffee machine. The team claims that the IntelligE technology produces a coffee maker that can run based on usage, substantially reducing energy usage while improving customer experience.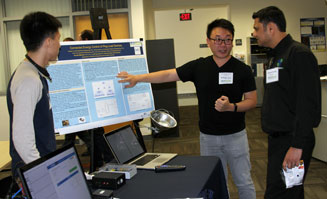 Calplug undergraduate researcher, William Lin, presents his team's demo to Dhawal Doshi, Sr. Engineer, SmartenIt. "Connected Energy Control" will contain a network of devices to share information of each other, including device state, sensor input and power consumption. Using this shared data, each device will have extended "spatial-awareness" and be better able to detect and predict user engagement.
projectBuddy
Dacoda Strack explains how his project "No Tool Left: Behind" works to Calplug Workshop attendees. The system is provides simple visual detection of any surgical instruments left in a body during a medical procedure.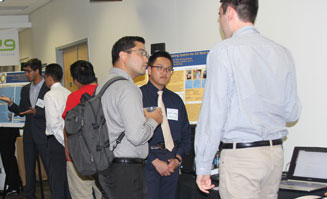 Andrew Beauchamp from IBM (left) listens to the description of SmartMon. Undergraduate researcher, Aaron Zhang said, the goal of SmartMon is to develop a low cost system to measure usage of certain classroom devices such as PCs, projectors, and TVs. The users will utilize SmartMon by plugging their device into the Smartenit Plug, then access a website where they'll choose the device to monitor. Once chosen, the user can view graphical analyses of the device's values and easily determine the extent of its everyday usage. The graphical analyses includes uses per day, use duration per day, time spent in each mode of operation, and total on time versus off time.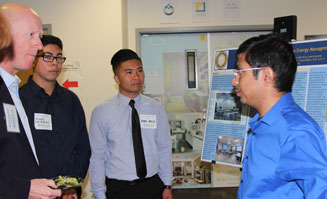 CalPlug undergraduate researchers, Umar Kazmi, Mark Arca, and Juan Contreras talk about their project, "Projector Buddy" with Scott Kitcher, president and CEO of CleanTech OC. Projector Buddy is a smart energy saving device that helps lower the power consumption of these projectors by constantly checking the surrounding for queues and automatically turning off the projectors when not being used
Calplug is located at Calit2 and was established in 2011 to improve energy efficiency in the use and design of appliances and consumer electronic devices. The Calplug workshop is a biannual event. To learn more about Calplug visit, calplug.org.
Session 1, 2 & 3 of the workshop are available to listen to in audio.