Mission
To create an advanced research lab to analyze and assess the energy efficiency of plug load appliances and ultimately design and test more efficient and eco-friendly household products.
Projects
Data Collection and Analysis:
Compares test procedures and criterions of various energy efficiency standards. Determines the power consumption of household plug load appliances.
Current Tasks and Goals: Testing power consumption of variety of set top boxes- ranging from IP to Satellite to Cable boxes.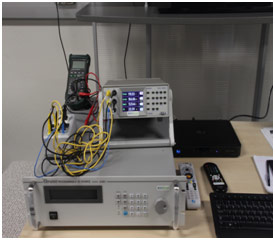 LabVIEW Control System:
Creates a LabVIEW virtual instrument (VI) that will interface with all lab instruments through automation.
Current Tasks and Goals: Creating a VI for power analyzers, power supplies, and oscilloscopes to ultimately control each individually through LabVIEW.

Embedded Electronics Laboratory:
Fabricates a printed circuit board in house
Current Tasks and Goals: Learning and implementing microcontrollers in various projects such as the STB Intelligent Sleep.