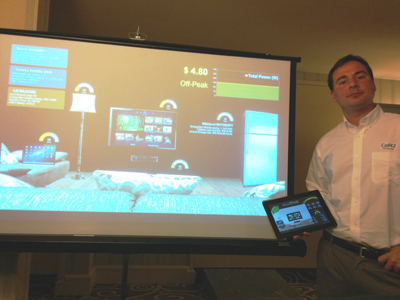 One of the more popular demonstrations in the CalPlug Center housed at Calit2 is the "Wall of Power." The living room simulation, equipped with everyday entertainment and household devices that plug into outlets, allows "consumers" to control energy usage by powering devices on and off, while seeing their energy consumption in real-time.
Sergio Gago Masagué, a CalPlug postdoc researcher, took a traveling version of the wall to the 2014 Information Architecture Summit in San Diego at the end of March, where it was a hit with conference attendees.
"The Summit," as the annual event is known, is in its 15th year. It brings together practitioners of information architecture, user experience design, content strategy, and related disciplines to network, collaborate and brainstorm.
Gago Masagué presented "Wall of Power" at the event's "Poster Night" exhibit session, which is advertised as a "happy hour-like atmosphere," where attendees meet and share their ideas. "It's sort of a grown-up take on the grade school science fair—albeit with fewer volcano dioramas," announces the event website.
Gago Masagué used a tablet device to control the display's appliances and electronics.
Curiosity ran high. "About 200 people attended the presentation," he said, "and they were very interested in the wall. They asked lots of questions about the project and wondered whether it was something they could buy."
Gago Masagué is a CalPlug project leader. He develops user interfaces and designs that improve user-product interaction and experience, and he believes "Wall of Power" really connects with users.
"It's a great tool that easily conveys everyday energy consumption," he said, "and enables people to take an active role in saving energy."
— Anna Lynn Spitzer