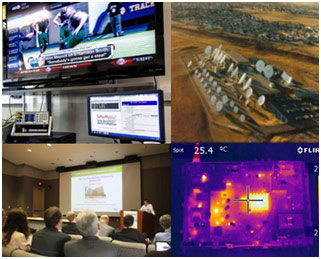 July 25, 2012: The California Plug Load Research Center's first project is now official. The work authorization for set-top box research was stamped yesterday at the California Energy Commission's Department of General Services. The official stamp is the project's green light to develop and demonstrate, over the next 18 months, a prototype of next-generation energy-efficient set-top boxes (STB).
As the first of three work authorizations included in the initial support from CEC, the set-top box funding will allow CalPlug team members to work with 10 STB stakeholders to demonstrate findings in three critical areas:
Reducing set-top box "on power" and power modes assessment — The research will determine ways to reduce "on power" and to collect power consumption data on STBs from manufacturers' existing or planned equipment. CalPlug will work with manufacturers and service providers to measure actual energy consumption in realistic displays and other uses.
Light sleep with fast recovery — The team will explore the potential of power saving using "light sleep" or equivalent fast-recovery modes. The "light sleep" mode is currently defined as the time when the STB has no user and/or network application requests for a defined period.
Recommend standard definitions for STB power states — The goal is to define and recommend a maximum of four standard alternative operational levels for an STB to facilitate technical communication and consumer education.
Approximately $300,000 of the STB funding is allocated for CalPlug to coordinate collaborations among stakeholders and to conduct research activities, including design, prototyping, testing and acquisition of STB systems. Future work authorizations are expected later this year and will likely include efficiency studies on energy-management systems and small-business servers.
"CalPlug will continue to keep the nation's energy efficiency advocates informed and we welcome all groups to join our efforts at any stage," said Arthur Zhang, the center's technical manager.
-CalPlug team, 07.25.2012