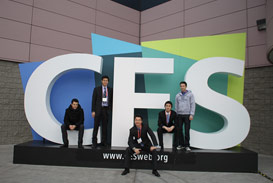 Starting off the new year with a bang, the 2013 Consumer Electronics Show in Las Vegas is the largest of its kind. Traveling in from all over the world, people attend CES to experience the latest and greatest technological offerings from consumer electronics and technology based companies. Several team members of CalPlug attended this year's CES with hopes of learning what new technologies are emerging, and if manufacturers are becoming more conscious about energy efficiency when designing their newest products.
The major companies like Samsung, LG, Panasonic, Sharp seemed to focus on trends consisting of new display sizes and technologies, mobile devices and the connected smart home environment that links a household's appliances and technology together. Seemingly, their efforts were focused on these product displays and demonstrations in order to push these trends into the spotlight.
Although energy efficiency information wasn't readily displayed for most products, some manufacturers did highlight this information on some of their products, like the following television display panels. LG's new 84" display claims a usage of 310 watts of power. Panasonic's new 55" LED panel showed it was using around 85 watts of power, which is almost a 30% improvement over last year's model. Sharp's new IGZO display panel claims to be about 80%-90% more efficient than a conventional display.
Innovation in electronic devices is heavily driven by consumer demand, so perhaps the key to promoting energy efficiency as more of a primary selling feature would be to work with manufacturers and educate consumers to drive demand. Through these methods, CES 2014 hopefully will showcase even better consumer electronics that are also focused on energy efficiency.
-Alan Downs, 1.12.13