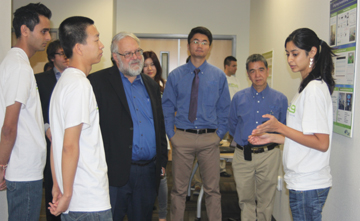 During a visit earlier this month to UC Irvine, California Energy Commissioner Chair Robert Weisenmiller made a stop at the CalPlug research and demonstration center to see first-hand the numerous energy-efficiency projects underway. The Center's initial research funding included a $1 million investment from the Energy Commission.
After a brief organizational overview, the Commissioner was guided through six demonstrations, learning about each project from one of the student team leaders. Weisenmiller, who fills the engineer/scientist role on the five member commission, was eager to engage the young researchers.
"How many members are engineers, how many write the software and what do you find to be the biggest challenge?" he asked the ZotWatt team who is participating in a U.S. Department of Energy design competition for ultra-low energy-use appliances and equipment.
The team is developing a consumer-centric plug load energy management prototype. Carlotta Pham, a senior mechanical engineering student who represented the group, explained that optimizing the algorithms and designing a system structure were challenging tasks.
Another demonstration was the 1 kWh Challenge which promotes energy awareness about consumer electronics and their power consumption. The challenge consists of four tasks, all accomplished by utilizing everyday electronics. Behavioral psychology major Melissa Valdez walked Weisenmiller through the challenge, showing him how the experiential learning process provides participants with basic energy concepts such as wattage, kWh consumption and carbon dioxide emissions.

"This challenge will greatly improve the perception of a kWh and promote the virtue of doing more with less," Valdez explained. "At the end, participants are able to see how much energy they have used since the start of the challenge."
Other projects the Commissioner viewed included the Wall of Power, the Smart Meter display, the Set-top Box Power Management system and the SIM lab.
Weisenmiller, who was a guest of engineering Professor Scott Samuelsen, said he was thoroughly impressed by all of the work.
"I can't wait to return and see the progress," he said. "This is a really important effort towards understanding and improving our state's plug-load energy consumption and educating consumers on making good choices."
Weisenmiller is the second CEC commissioner to visit CalPlug; he was preceded by Andrew McAllister who toured the Center in August 2012.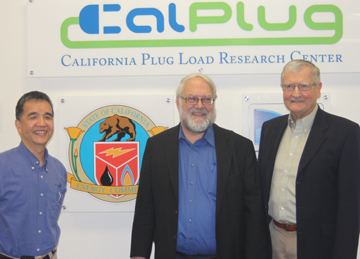 –by Shellie Nazarenus